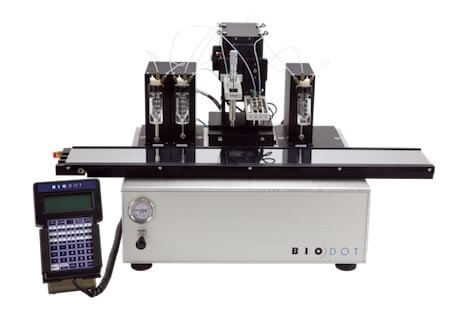 DISPENSE PLATFORMS, continued:
The XYZ series systems are a powerful production tool for rapid test development and manufacturing with a larger working deck than the smaller XYZ3060 platform.
XYZ3210
The XYZ3210 is a flexible XYZ motion/dispense system, with a motored Z-axis and fully programmable motion and dispense parameters. The XYZ3210 is designed for simultaneous dispensing or individually dispensing lines and dots. This platform can incorporate 4 AirJet HR, 8 BioJet HR, 8 FrontLine HR, or 8 PolyDrop dispensers. The researcher can choose the type and number of dispensers systems for their application needs.
XYZ3060
The XYZ3060 system is similar to the XYZ321- system, but with a smaller working deck.
BioDot also provides a variety of automated camera vision solutions in order to increase reproducibility in manufacturing as well as reliability in part inspection. Automated inspection process can lead to a higher quality of product and increased yield. All of these LFA dispensing systems to create your own design and applications can be seen on BioDot's web site.: https://www.biodot.com/lateral-flow/
Continue to next article: Manufacturing of Lateral Flow Assays (Part 6)
https://viroresearch.com/wp-content/uploads/2019/10/12b-lateral-flow-assays.jpg
314
471
Viro Research
https://viroresearch.com/wp-content/uploads/2019/06/viro-logo-color.png
Viro Research
2019-10-22 08:00:11
2020-06-26 14:11:10
Manufacturing of Lateral Flow Assays (Part 5)