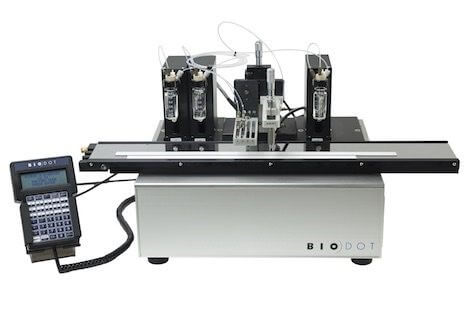 BioDot provides a number of reagent dispensing platforms that are designed for a combination of R&D and production activities. In both cases, the same dispensing technology is used which allows for R&D validated processes to be efficiently transferred to the manufacturing environment.
IMPREGNATION:
Bulk impregnation of sheets in baths or in-line with the RR120 is available. The RR120 has an impregnation module for dipping web materials followed by drying. However, neither of these options are recommended due to the basic non-homgenous nature of these materials which leads to the variations of dried reagent concentrations. This problem is eliminated by the use of the previously described dispensing reagent systems (BioJet HR, AirJet Ultra, AirJet HR, etc). For continuous dispensing, a tandem pump configuration is used for both the FrontLine and BioJet dispensing. BioDot has international patents (US, China, Europe) for the BioJet HR™, BioJet Ultra™, AirJet, as well as the used of solenoid and aerosol dispensed heads combined with the use of syringe pumps to achieve quantitative dispensing. BioDot's additional patents include the use of the tandem pump configuration, which eliminates delays and line distortions due to syringe refilling cycles.
DISPENSE PLATFORMS:
ZX1010 Platform
The ZX1010 is a flexible dispensing system with a programmable X-axis, manually adjusted Y-axis positioning, and a pneumatic Z-axis. Dispensed volumes are independently programmed via the terminal.
The ZX1010 platform can be configured with a maximum of 8 dispensers (max 4 AirJets). You can choose the type and number of dispensers to meet your application needs and includes the choices of the µAirJet, AirJet HR, BioJet HR, Frontline HR, and PolyDrop dispensers.
Continue to next article: Manufacturing of Lateral Flow Assays (Part 5)
https://viroresearch.com/wp-content/uploads/2019/10/11-lateral-flow-assays.jpg
314
471
Viro Research
https://viroresearch.com/wp-content/uploads/2019/06/viro-logo-color.png
Viro Research
2019-10-15 08:00:16
2020-06-26 14:12:26
Manufacturing of Lateral Flow Assays (Part 4)