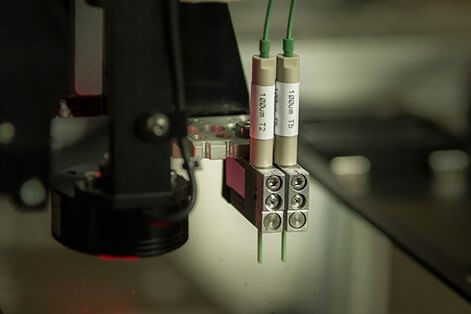 DISPENSING AND IMPREGNATION PRODUCTS, continued:
The next several systems are non-contact, which is the preferred system with LFA diagnostic assay applications. All of these are offered by BioDot.
BioJet HR™
The BioJet HR™ is a proprietary, qualitative, non-contact technology which couples the BioJet "Drop-on-Demand" valve with a high-resolution syringe pump. The BioJet HR™ meters precise amounts of reagent, incorporating the benefits of non-contact dispensing and the ability to program exact drop volumes (nanoliter to microliter).
BioJet Ultra™
The BioJet UltraTM is a non-contact system capable of handling picoliter to nanoliter liquid handling and spotting solution with drop-on-demand capability. The dispense platform can produce a single dynamic drop volume range of 100pL to 1.0nL. It is compatible with a wide range of reagent types, including aqueous, organic, and cells. The platform can be optimized to work with a high dynamic range of viscosities without additives (up to 400 cP).
Continue to next article: Manufacturing of Lateral Flow Assays (Part 3)
https://viroresearch.com/wp-content/uploads/2019/10/9b-lateral-flow-assays.jpg
314
471
Viro Research
https://viroresearch.com/wp-content/uploads/2019/06/viro-logo-color.png
Viro Research
2019-10-01 08:00:06
2020-06-26 14:15:08
Manufacturing of Lateral Flow Assays (Part 2)